ATLANTA CHINESE DANCE COMPANY
EDUCATIONAL PROGRAMS
(In-Person and Virtual)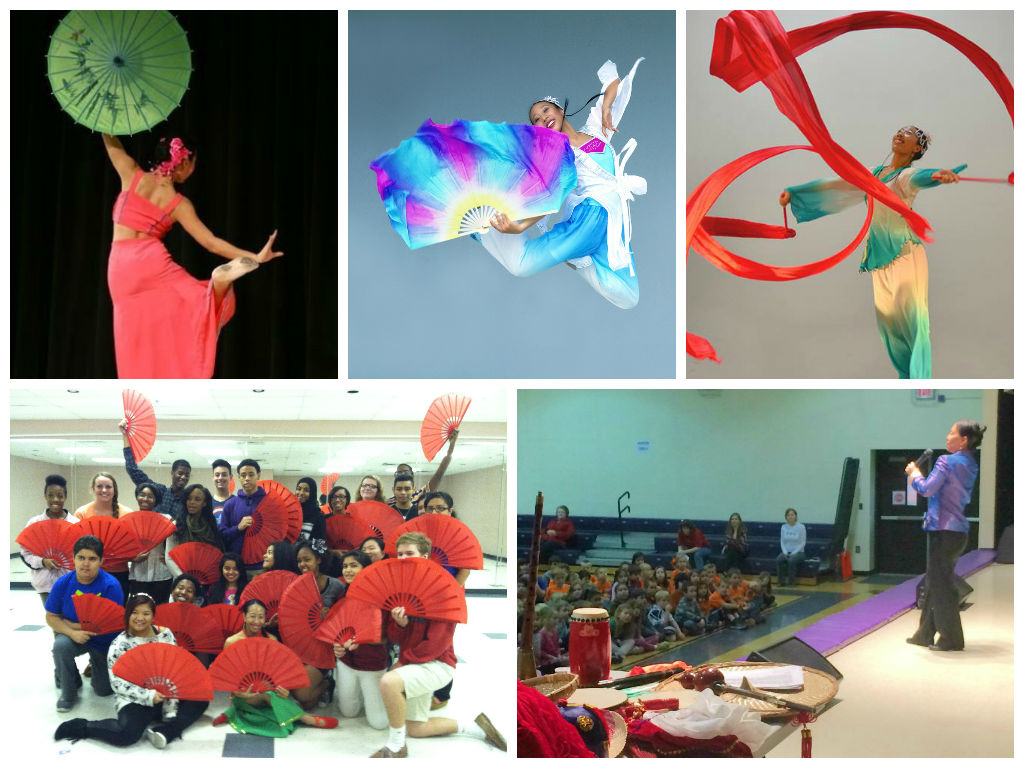 Atlanta Chinese Dance Company's EDUCATIONAL LECTURE-DEMONSTRATION (arts-in-education assembly program) is a visual feast of colorful Chinese ribbons, fans, umbrellas, handkerchiefs, drums, and more, featuring live, costumed traditional Chinese dance performances interspersed with detailed historical and cultural background information as well as audience participation. It is a fun and memorable way to experience not only the beauty and splendor of the art of Chinese dance, but also China's long history (over 5,000 years) and diverse culture (56 ethnic groups). This engaging and educational presentation inspires audiences to take pride in their own cultural heritage and to gain an understanding and appreciation of one of the fastest growing minority groups in the US.
Sample Program (45-60 Minutes):
Happy Celebration (Han Ethnic Majority Folk Dance)
Tibetan Reba Drum Dance (Tibetan Ethnic Minority Dance)
Kung Fu Fan Dance (Martial Arts Dance)
Passion of Jasmine (Classical Chinese Dance)
Red Ribbon Dance (Han Ethnic Majority Folk Dance)

Audience Participation (Kung Fu Fan Demo and Ribbon Demo)
Traditional Chinese Dance Props Demonstration
Question and Answer Session
Looking for something more hands-on? Get on your feet and learn two of the most representative Chinese dances - the Ribbon Dance and Kung Fu Fan Dance - in our INTERACTIVE WORKSHOP. This program can be scheduled alone or in conjunction with our lecture-demonstration.
Target Audience:
K-12 Schools, Colleges and Universities, Libraries, Senior Centers, etc.
(Audience Limit: 250)
Meet the Artists:
The ATLANTA CHINESE DANCE COMPANY is a non-profit organization dedicated to promoting the development, advancement, and appreciation of Chinese history and culture through the art of Chinese dance to metro Atlanta and surrounding areas. The company has presented sixteen original full-evening productions in theaters such as the Performing Arts Center at Gwinnett Center, Robert Ferst Center for the Arts, and Rialto Center for the Performing Arts as well as numerous community outreach performances throughout the metro Atlanta area. Most notably, ACDC appeared in the Opening and Closing ceremonies of the 1996 Centennial Olympic Games and the "Chinese variation" of Atlanta Ballet's The Nutcracker at the Fabulous Fox Theater for twelve years.
HWEE-ENG Y. LEE (NARRATOR/INSTRUCTOR), ACDC founder and co-artistic director, has been teaching traditional Chinese dance for 25+ years in metro Atlanta, where she currently trains 80+ dancers. Along with ACDC co-artistic director Kerry Lee, she created an educational lecture-demonstration on Chinese dance, history, and culture that has been presented in numerous schools, universities, libraries, and senior centers throughout Georgia and surrounding states. Named "Lexus Leader of the Arts" in June 2001, Ms. Lee is the creator of several full-evening Chinese dance dramas and co-creator of the "Chinese variation" in Atlanta Ballet's The Nutcracker (with artistic director John McFall). She holds a MA from Boston College.
KERRY LEE (DANCER), ACDC co-artistic director, has performed in several educational lecture-demonstrations on Chinese dance, history, and culture in New York, including H.T. Chen & Dancers' Eight Strokes and the Moving Word, the Orchestra of St. Luke's What is American Music? - The Asian Influence, and Nai-Ni Chen Dance Company's The Art of Chinese Dance and Dragon's Tale. As a professional dancer, she has toured throughout the US and the British Virgin Islands. Kerry was the only Chinese dancer among the finalists who received a ticket to the So You Think You Can Dance Season 11 Callbacks (also known as Vegas Week or the Academy in other seasons). She holds a BS from Stanford University.
Our professional duo of artists have presented numerous educational lecture-demonstrations and interactive workshops in public and private schools, universities, libraries, and senior centers throughout Georgia and surrounding states, such as the Atlanta International International School, The Westminster Schools, Paideia School, The Global Village Project, Wauka Mountain Multiple Intelligences Academy, Mason Creek Elementary School, Macedonia Elementary School, Peeples Elementary School, Cary Reynolds Elementary School, Lovinggood Middle School, Ridgeview Charter School, Riverwood High School, Auburn University, Savannah State University, Reinhardt University, Coastal Carolina University, Decatur Library, Sandy Springs Library, Sunrise Senior Home, Belmont Village Assisted Living, Carlyle Place Senior Center, Smoky Springs Retirement, Atria Senior Living, and many more.
Testimonials from Students of Peeples Elementary School (Fayetteville, GA):
"Thank you so much for coming to Peeples and performing. I didn't know that Chinese people have that kind of dance. I hope you come back next year!"
"I loved your performance at Peeples Elementary. The ribbon dance was amazing! How do you even do that swirling and twirling? I would love to know. That kung fu was cool! You went like all serious and stuff. The idea that you use props is interesting, but it is very pretty and professional. The way you elegantly leaped and pranced across the stage was so fab! I hope you come back!"
"You guys were great. You impressed me. I could see you guys telling a story while dancing. I think that you guys were great, because you showed your feelings when you were dancing. I also appreciate that you guys came to our school to perform in front of us. The costumes were beautiful bright colors. I hope you guys get to travel around the world and perform in front of other people."
Contact Information:
Hwee-Eng Y. Lee
Co-Artistic Director, Atlanta Chinese Dance Company
(770) 449-9953
atlantachinesedance@comcast.net

Like us on Facebook.
Follow us on Instagram.
Subcribe to our YouTube channel.
---
HomeHome .|. About ACDC .|. What We Offer
Past Performances .|. Chinese Dance History
Chinese Dance Classes
Created by the Atlanta Chinese Dance Company
Copyright reserved